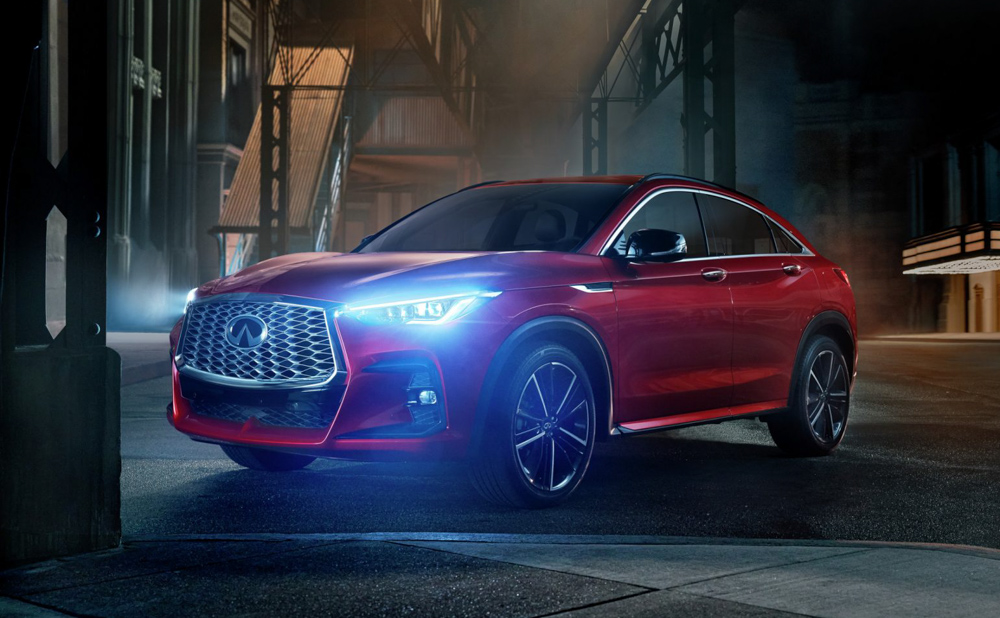 INFINITI has pulled the wraps off of its highly anticipated new crossover, the QX55. Based on the QX50 and inspired by the INFINITI FX, the QX55 brings an added dose of style to the lineup.
The QX55 turns the heat up on the handsome QX50's styling with a low-slung roofline, more aggressive front fascia, origami-inspired grille, and unique styling at the rear of the vehicle. The QX55 was introduced wearing Dynamic Sunstone Red, and a two-tone black and red interior that will be unique to this model. 20" wheels are standard on all QX55s.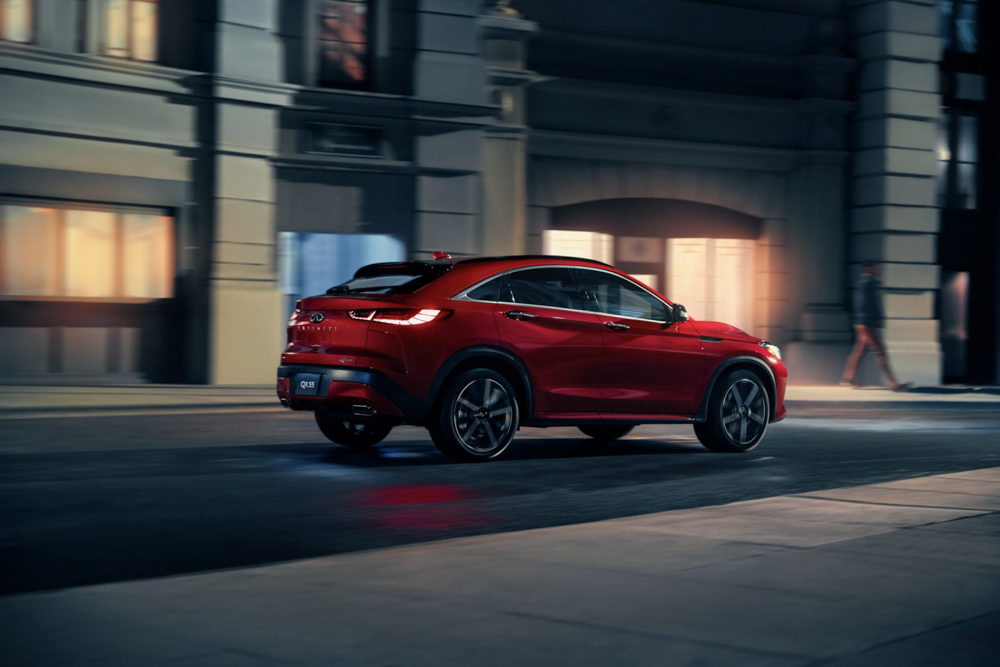 Under the hood, the QX55 features a 2.0-litre four-cylinder variable-compression turbo motor, delivering 268 horsepower and 280 lb-ft of torque. A continuously-variable transmission sends power to the standard all-wheel-drive system. Under normal driving conditions, the system sends 100% of power to the front wheels for efficiency. Up to 50% of power can be diverted to the rear wheels in more demanding conditions, like aggressive cornering or inclement weather.
Inside, the QX55 is similar to the gorgeous QX50, with a showstopping red and black colour scheme with matte charcoal stained wood accents. The instrument panel wraps around into the centre console with a bold red flourish, lending to its unique feel. The twin-screen infotainment system has been updated for better responsiveness, and features Apple CarPlay compatibility. The rear seat slides fore and aft to allow more rear legroom or more cargo space, depending on what the moment demands. With the rear seats folded, the QX55 can swallow up to 760 litres of cargo.
The QX55 will be available in Pure, Luxe, and Sensory trims. Production begins soon, and we expect the first QX55s to be available for delivery in spring 2021. Watch this space for more updates, and fill out the form below to be the first to know when the QX55 is available to test drive!


Bonus: Watch the full reveal featuring a performance by Aloe Blacc!